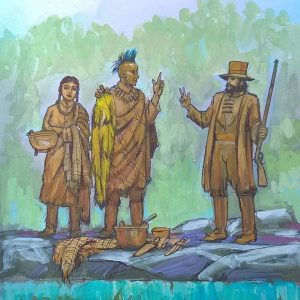 Nearly 200 hundred years after the area's first fur trading post was settled on the bluffs of the Missouri River, Kansas City is preparing to honor the French pioneer Francois Chouteau who established it, and the Native Americans with whom he traded. Francois Chouteau is widely acknowledged as the Founding Father of Kansas City, and the City of Fountains is planning to honor him with an historical fountain to be located fittingly along Chouteau Parkway.
On November 10, 2016, the City Council and Mayor approved a resolution sponsored by 1st District Councilwoman Heather Hall. The fountain will be located in the southern portion of Kansas City's 1st District on the west side of Chouteau Parkway, south of I-35, north of Parvin Road and adjacent to the Chouteau Rain Gardens.
A group called the Chouteau Fountain Founders in working with the City of Fountains Foundation to raise private funds and other grants to underwrite the educational, historical and multicultural monument to Kansas City's earliest history.
Early in 2016, the Kansas City Parks and Recreation Department conducted a study to determine a suitable site, then partnered with Landworks Studio to develop a design and landscape treatment. The KC Parks Board of Commissioners and KC Municipal Arts Council reviewed and endorsed the project.
Local sculptor Kwan Wu, who created the beloved George Brett statue at Kaufman Stadium, will create the larger-than-life statues of Chouteau and his Native American trading partners which will sit atop the 8-foot tall limestone bluffs and overlook a recreation of the Missouri River.
To contribute to the Chouteau fountain, go to City of Fountains Foundation page>>
To follow the Choutteau fountain's progress like their Facebook page>>